Join us for our Facebook virtual fundraiser
Just in time for your holiday shopping!
Biden/Harris yard signs are here again!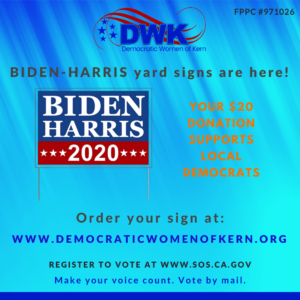 Get your's now by clicking here.  NOTE: We do not ship.
Since we do not ship, signs should be available for pickup at Jastro Park (east side by picnic tables) on:
Saturday, Oct. 17, 2020 –
9 a.m.-10:30 a.m.
There will be no October 2020 meeting because…
DWK is having a Virtual Auction and Women in Politics event on FaceBook! The event begins on October 26th at 6 p.m. and will end on November 8th at 6 p.m.
 DWK proudly endorses the following candidates and propositions:
Chris Cruz-Boone – Bksfld City School Board Trustee, Area 3
Brooke Malley-Ault – Bksfld City School Board Trustee, Area 5
Alex Garcia –

Mayor of Wasco
Andre Gozales – Bakersfield City Council Ward 2
Rudy Salas – State Assembly 32nd district
Kim Mangone – Congress, Dist. 23
Vote

YES

on Proposition 15 – Schools and Communities First
There are several groups dedicated to supporting Democratic principles and candidates. Please support them.